Personalized Gifts
---
Affordable Personalized Gifts make fabulous Anniversary Gifts, Wedding, Graduation, Newborn Baby, Teen birthday, Baptism, Birthday and every special occasion. Personalized picture frames or a photo coffee mug bring a picture to life and to give one of these makes the gift extra special. By engraving a name, date or message you're giving a personal keepsake.

A gift that says you are special to me. This is a nice, classy gift that will make you unforgettable - to them. They will feel loved and full of pride that you care that much to give a beautiful present like this. And . . . you'll be surprised with how affordable they are. Prices vary but many are under $20.

Find unique ideas here for all occasions and personalities. Browse through our pages of hand-picked customized presents that are engraved and monogrammed. Choose wedding, birthday, frames, throws, mugs, apparel, wine, glasses, pen sets, glass blocks, engraved rings and other jewelry, cuff links, cute tote bags, children step stools, sister, aunt, women, friendship, romantic, sympathy, gifts for men, babies, message in a bottle and many more choices for everyone in the family.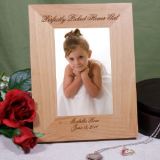 Personalized Picture Frames



Bridal/Wedding and
Anniversary

Sympathy

Family Name
Personalized
Jewelry Gifts

Message
in a Bottle

Personalized Wine Gifts



We thank you for visiting Personalized Gifts, part of Creative Gift Ideas.

special note:) This website is owned and operated solely by me. I'm a single mom of three grown children, two grandkids that I adore and have several other part-time jobs to make ends meet. I receive a small commission on every sale made here while advertising for "the big guys".

That's why I want to thank you for your business. Your support helps our economy by supporting people just like me.

It really makes a difference in my life to have this site and very much appreciate your support of this small biz! . . . D You can read more about me about us here.




return from personalized gifts to birthday gift ideas

return to home page of creative gift ideas